Piano Notes – Studio Newsletter May 2010
|
New Student
Welcome to new student Andreas Shaefer, age 7, to the studio.
Summer Recital June 26
Registration deadline: May 15
see April newsletter for details
Piano Journal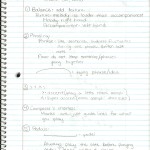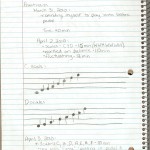 Recently I was very impressed by a new student, Adalee Koshiol (6th grade), when she showed me her Piano Journal. I had mentioned to her that she should write down the things we do and talk about in her lessons as soon as she gets home, while they are still fresh in her mind. The next week she came to her lesson and showed me these pages.
I am inspired by how detailed her notes are. She tried to put into her own words what I had explained to her in her lesson. I myself kept a piano journal when I was a student. I hope this inspires all students to do the same.
Temecula Music Festival
Shania, age 4, played at the Temecula Music Festival on April 24. You can hear a recording of her pieces on the studio Facebook page. She received a certificate and will get an evaluation report from the judge. She had a great time! Shania began lessons in October 2009.
update:
Shania got a "Double Gold" – both her pieces received Superior Rating (29 points out of 30). Judge's comments: "Great Warmth of Tone. Wonderful dynamics and balance between the hands – that isn't easy to do! Occasionally your rhythm isn't quite steady, and rushes a little ahead. Superb use of arm and wrist. Excellent foundation for the future. You can achieve a lot in the years ahead!"
National Piano Guild Auditions
This will  be held from June 4-6. Specific times for individual students are yet to be notified. The following students are participating this year:
Caleb Patrick, Riley Wright, Aubrey Mitschang, Catherine Howard, Katie Ocampo, Olivia Melton, Ameerah Wells, Meijke Balay-Mickelson
All programs must be memorized. Parents, please ensure students are doing extra practice at home.
Buying a Piano
If you are looking at purchasing a used piano, I can give advise on brand and if the asking price is fair for the age and condition of the piano, based on pictures and verbal description. If you need an onsite appraisal, I can recommend a registered piano technician. If you are looking at purchasing a new piano, I can recommend a shop and give suggestions in regards to brand and what is best for your price range. Many shops offer affordable rental options also. Perhaps in the summer we will organize a studio trip to one of the shops!