Piano Notes – Studio Newsletter October 2010
|
MTAC Student Musicale Recital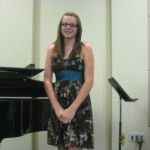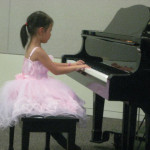 Shania Jin and Katie Ocampo performed at the Music Teachers Association of California Temecula Valley Branch Student Musicale Recital on Sep 18 at Temecula Library. They both did a great job! For more pictures visit the Studio Facebook Page. Recitals are wonderful opportunities for students to gain performance experience, overcome stage anxiety, as well as learn from listening to other students.
In addition to two Studio Recitals a year (organized by Yiyi), where students of all ages and levels are encouraged to participate, there are many other recital/audition/festival opportunities throughout the year, organized by various Music Teachers associations. These events include students from other teachers and instruments, and offer additional performance and assessment opportunities.
TVMTA Student Recital
The Temecula Valley Music Teachers Association is organizing a student recital on October 30 at the Temecula United Methodist Church (click here for Recital Etiquette and directions to the church). The recital times are to be advised, depending on number of registrations received by the organizer (we will request as a group to participate in the afternoon recital at 1:30pm). The TVMTA recital registration fees are $10 per student, interested students please complete the form below and submit with your registration fee to Yiyi. The deadline for registration is Oct 11. Students who are auditioning for the CAPMT Piano Auditions in November are highly recommended to participate in this recital as a practice run-through.
Certificate of Merit
The Music Teachers Association of California administers annual music exams called Certificate of Merit. Registration is now open for interested students. This exam covers all components of music study, including Theory, Technique, Repertoire, Aural Skills, and Sight Reading. Due to the extensive preparation involved, this opportunity is only open to students who are strongly committed to their study, and shows consistently high standard of practicing and homework preparation. Interested students can find out more about the program by visiting the MTAC website, as well as read the Letter to Parents.
Sonata/Sonatina Festival
The MTAC Temecula Valley Branch is organizing a Sonata/Sonatina Festival on November 13. This will be an adjudicated event. If you are already working on a sonata/sonatina, you are highly recommended to participate. Interested students please pick up registration form at your next lesson. Registration closes Oct 14.